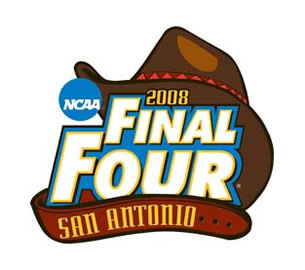 It's about an hour before tip-off and it's a mix of excitement, nervousness and anticipation at my house. My cousin Anne (fellow KU alum) is coming over to watch the game with me and Mo. We're feeling a little too uneasy to go out and watch this game in public. Also, we watched the Davidson game together here, so why mess with karma? I'm thinking that if KU can hit their outside shots, they'll be fine. When the Jayhawks are on, they're the best team in the country. When they make dumb turnovers and can't hit threes, they're very beatable (see Oklahoma State). We shall see. Regardless, it's been a terrific season, and it's great for head coach Bill Self to finally get that monkey off his back and make a Final Four. I don't think it'll be his last, I just hope that future ones are as the Kansas coach, also.
That said, after the football team's amazing year, culminating with that incredible Orange Bowl win, this would be impressive finish for KU athletics in general. I'm just sayin'.
All in all, though, pre-game feeling: a wreck. I may be back with a halftime update, or at least a post-game wrap up. I need another beer right now.
- Corey